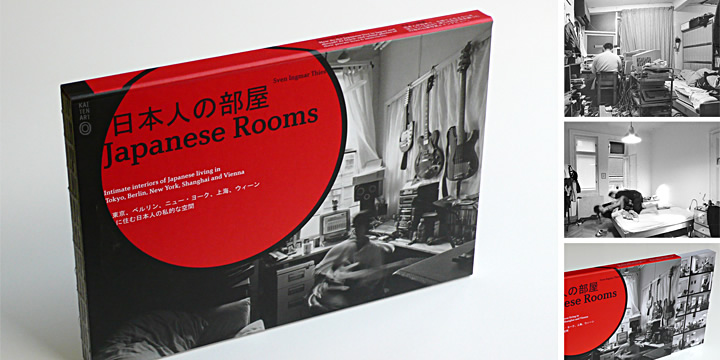 > order book at Facebook.com
> order book at amazon.de
> order book at amazon.co.jp
> buy at these bookstores in Japan [download .rtf, 4 KB]
> watch book excerpt [pdf, 767 KB]
Project #001
Japanese Rooms (photo project and book)
How do the Japanese live in Japan? How do they live abroad? Do they create their own culture in foreign cities? What do they take with them from home? Feelings, things – sensuous or tangible memories?
The artist and graphic designer Sven Ingmar Thies gained insight into the lives of 82 Japanese citizens in five global cities over the course of nine years: Tokyo, Berlin, New York, Shanghai and Vienna.

> watch interviews, videos and former exhibitions at Facebook
> watch Sven Ingmar Thies' speech at Youtube


Awards

Japanese Rooms was awarded the iF gold selection 2008 after it had already won the iF communication design award in the categories photography and book design. The book is nominated for the Design Award of the Federal Republic of Germany 2010.

The book is available at amazon.de, all bookshops and online - or send us an e-mail. (Sven Ingmar Thies, Japanese Rooms, ISBN 3937623906)


Exhibitions
- 05.05.-10.07.2011 at Übersee Museum Bremen, Germany
- 24.03.-28.04.2011 at Wissenschaftzentrum Bonn, Germany
- 29.05.-20.06.2010 at EKO-House, Düsseldorf, Germany
- 21.04.-08.09.2009 at the Museum of Ethnology Vienna, Austria
- 06.02.-05.03.2009 at Japanese-German Center Berlin, Germany


Contact/Press
> e-mail our PR coordinator Jockel Weichert
> download press releases "Project" in English, Japanese and German [zip, 8 KB]
> e-mail us to get further project information and media clippings


About Kaitenart
Kaitenart is an art and publishing project focusing on Japanese arts and culture as well as on art in a Japanese context. It is a collaboration between Sven Ingmar Thies (www.thiesdesign.com) and Schwarzerfreitag Publishing, an independent publisher.


Legal: Sven Ingmar Thies, Kreindlgasse 1/13, 1190 Vienna, Austria, Tel: +43-1-48 66 66 8, UID: ATU66023055
Disclaimer: We are not responsible for the content of linked websites (external links to third parties) that are owned and operated by other organizations. Those organizations are solely responsible for the operation and content displayed on their websites.